Teaching Academy: When the Student Becomes the Teacher 
Posted on: December 1, 2022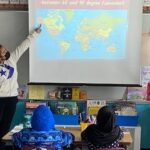 When the Student Becomes the Teacher
On a typical day, most high school students wake up, go to school, go home and repeat. Some may liven up their day with an extracurricular activity like sports or clubs. But many students around the district spend part of their day exploring careers through the Seattle Skills Center.
The Skills Center is a free program that prepares Seattle Public Schools (SPS) students for college, careers, and life by providing advanced Career and Technical Education (CTE) courses. These classes give students options to continue career-focused learning in four-year colleges, earn post-secondary certification, or join the work force after high school. Skills Center programs are located within SPS high schools and community-based sites throughout the city.
Ceyla Garcia Santamaria and Mandy Huang, both recent graduates from Cleveland STEM and Franklin high schools, respectively, are enrolled in the Skills Center Teaching Academy at Franklin where they get hands-on experience in the field of education. Faced with a shortage of teachers, this course provides opportunities for students to get experience working in educational settings and prepares them for success in post-secondary teaching programs.
Students can take an introductory version of the Teaching Academy in the summer or the advanced class during the school year. The school year class provides opportunities for students to earn an English/Language Arts credit in addition to dual language college credits and industry-recognized certifications that can help in future employment.
Like the Academy of Rising Educators, which helps participants of color earn their teaching certificate, the Teaching Academy can lead to career opportunities within SPS.
Just days ahead of their graduations, Huang and Garcia Santamaria reflected on their time in the Teaching Academy.
SPS: For those of us who don't know, tell us a little bit about the program.
Huang: "This program teaches you how to be a teacher. Some units we've had so far are classroom management and childhood development from infant to middle school. We also have internships, so right now we are both interns. I am an intern at Dearborn Park International Elementary working in a second/third grade combo classroom."
Garcia Santamaria: "The first semester we spent exploring the foundations of teaching, which involves childhood development – what goes on in a child when they're growing up … We also start to look at classroom management, different curriculums, and how to interact with students [in] different situations. Then the second semester, we get hands on in a classroom where we co-teach and shadow with a mentor teacher to learn some of their ways and what they do in their classrooms."
SPS: What part lights you up or has been the most surprising?
Huang: "I always knew that I wanted to teach elementary school, but I never really knew what grade. I really think second grade is a perfect grade … I was also at John Muir Elementary, and my mentor teacher was a second-grade teacher. I really enjoyed my time there as well."
Garcia Santamaria: "It's really cool … still being a student and getting an inside scoop of what a teacher does and the different things they have to do for a school to work."
SPS: Since you are not that much older than the students you are working with, is it hard to get them to stay focused?
Garcia Santamaria: "When they first met me, they were so curious about high school … and they had a lot of questions. I think it's a different type of interaction that you have with them when they see you as someone older and as more of a teacher."
SPS: What kind of lessons have you taught the students?
Garcia Santamaria: "I was able to do a lesson graphing on four planes with sixth graders. I first taught it with a co-teacher, which was nice to get the foundation … then I took it on by myself. Then I got to see the same lesson taught by my mentor teacher, so seeing that in three different perspectives was amazing and gave me more insight on the different ways you can take one curriculum and make it your own."
Huang: "Both Ceyla and I taught a couple of lessons on the plant life cycle in a second-grade class at John Muir Elementary School. We first grew our own bean plants, created a Nearpod (online) lesson, and wrote up a lesson plan using the Danielson Lesson Plan Template. That experience helped us get ready for teaching a real lesson to the children. They loved it and went home with their own bean plants!"
SPS: What would you say to students who are thinking about signing up for the class, but they are not sure about it?
Huang: "I highly recommended it … the teacher is great; she helps a lot and is really involved, and she really cares about her students. I feel like I have learned a lot in this class. "It definitely gets me even more excited because I will be attending Seattle Central doing the Academy for Rising Educators program. I'm excited to get more experience in student teaching and … creating lessons."
Garcia Santamaria: "I think it's a great opportunity that everyone should at least try. You get to really know yourself and see yourself in a career. I had mixed emotions about the next step [after high school], so this really enlightened me. It's a great opportunity just to explore different careers … there's a little bit of everything for everyone."
In addition to receiving content and experiences that build confidence with teaching and working with educational professionals, students in the Skills Center Teaching Academy are also prepared to take the ParaPro Assessment during spring quarter. Completion of that test meets requirements for students to apply for a paid position as an instructional assistant after graduation.
Learn more about Skills Center Teaching Academy summer or school year courses.