Skills Center Maritime Grant
Posted on: December 29, 2022
Summary: The Urban League of Metropolitan Seattle, in partnership with the Seattle Skills Center and Sound Experience, has been awarded a $1.3 million grant.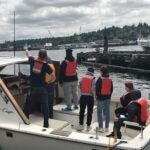 Students who are interested in applying for programs offered at the Seattle Skills Center should check out our website where the application for Summer 2023 and school year 2023-24 programs will be available soon.
Seattle Skills Center to share $1.3M maritime grant
In partnership with Urban League of Metropolitan Seattle, Seattle Skills Center and Sound Experience have been co-awarded a $1.3 million grant to partner with maritime industry employers. The grant will provide training and services to students and place youth in internships that lead to full-time employment in entry-level maritime goals.
Maritime industry partners project a major workforce shortage over the coming years for maritime deck and engine crewmembers.
"You can see the need for a new generation of maritime workers everywhere — from the ferry system to the crowded docks of our waterfront," said Port of Seattle Commissioner Hamdi Mohamed. "We need young people to see it too and get involved."
The Skills Center is working to connect students to maritime opportunities. Many of these jobs require less than two years of post-secondary education, and training can begin while students are still in high school.
The Skills Center has been sub-contracted by the Urban League to engage high school students, recently graduated students of color furthest from educational justice, and female-identifying students in the maritime industry, provide their awareness and providing hands-on learning opportunities during the summer and the academic year. 
Students will learn important and overlooked aspects of the contributions of people of color to the maritime industry. Additionally, they will have hands-on vessel operations experiences at Seattle Maritime Academy and aboard the historic schooner Adventuress.
Students who are more interested in maritime manufacturing rather than vessel operations will also have opportunities to learn about this career pathway.
To learn more about this exciting program or to sign up, email skillscenterinfo@seattleschools.org.