Burning Through Stereotypes with the Firefighting Course
Posted on: March 1, 2023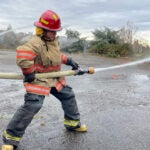 As one of only two female students in the Seattle Skills Center's First-In Training and Education (FITE) program last year, it took some time for Cleveland STEM High School senior Ireland Skoglund to recognize how much she has grown. Now, there are four girls, and for Skoglund, the program has benefited her in multiple ways.
"I've gotten stronger and more confident; I have pushed myself and grown my leadership skills," she said. "Going into the class, I was a little shy, I didn't speak up, and I was the last to volunteer to do anything that wasn't strictly academic."
This year, Skoglund is a company officer leading other peers in her group, making sure they know how to stand up for themselves and to try new things. Last fall, she earned her Wildland Red Card, which means she has the option to apply to be a wildland firefighter. On the field day for the Red Card, Skoglund was the only girl out of a large group of guys.
"A year ago, that would have seemed incredibly daunting," she said. "But here I am fully certified with my Red Card."
Fighting fires is in Skoglund's blood. She comes from a long line of firefighters. Her father was a volunteer firefighter, and her great grandfather worked as a firefighter at a station near the University of Washington.
"Just hearing about him and seeing his fire helmet and cool things like that solidified that career choice for me," she said.
Skoglund has been accepted into her first-choice school – the University of Alaska Fairbanks which has a stellar firefighter program. Her goal is to leave in July to attend their summer fire academy to earn her Firefighter 1 status.
The Seattle Skills Center has helped set Skoglund on the path to her dream career. She wants all students to know the benefits of taking Skills Center classes.
"Because of how this class impacted me, I now have a direction in life and a plan after high school that I'm looking forward to."
Learn more about the school year Firefighting and Emergency Medical Services course.